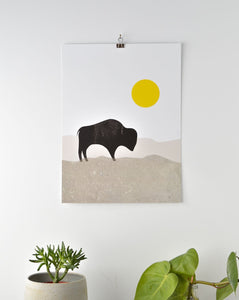 Laurianne developed an interest for minimalistic forms and organic materials during her interior design studies. Her digital prints are inspired by simple shapes and textures found in modern furniture design and architecture as well as natural environments. She uses elements of design principles such as scale, proportion, and contrast to create abstract digital prints and achieve their final composition. In her pieces, dark colours are used to contrast softer neutral hues, and subtle textures found in nature bring the simple shapes to life.
Product dimensions: 
(Height, width, length, weight)
8"x10", 11"x14", 12"x16"
Material(s) and finish:
100lb cardstock

Handmade in Winnipeg, MB